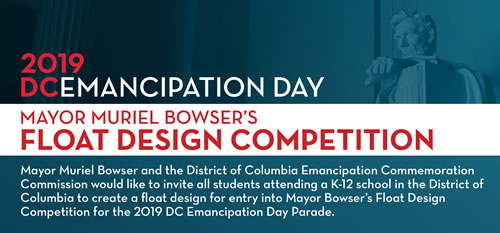 Mayor Muriel Bowser and the District of Columbia Emancipation Commemoration Commission would like to invite all students attending a K-12 school in the District of Columbia to create a float design for entry into Mayor Muriel Bowser's Float Design Competition for the 2019 DC Emancipation Day Parade.
Enter your design here. https://goo.gl/forms/aumbpzbq2TYnUgcU2
Rules and Guidelines (en español):
Entries can be made by individuals or groups in one of three categories Elementary School, Middle School or High School. An individual or group may submit one entry, however, an individual may be a member of more than one group that submits an entry. All design group members or individuals must be enrolled in a District of Columbia Public School, District of Columbia Public Charter School or District of Columbia Private School.
Entries should be based on the theme "#DC2Me." Designs should interpret your original vision for the future of the District of Columbia. By submitting an entry, the designer(s) represent(s) that the entry is an original work of authorship, and does not infringe or violate any third party's proprietary or intellectual property rights.
Designs will be judged on creativity, originality, and interpretation of theme.
Design sketches must be on paper no larger than 11" by 17" in dimensions. Electronic submissions are required (PDF preferred). Entries should be accompanied by a brief narrative description.
Overall layout of the float should be rectangular in shape and able to be built out to area of 7' wide by 22' in length. The height of all items being designed/built should not exceed 10'.
Design winner(s) are not responsible for constructing the float.
The winning designer(s) will be invited to accompany their float in the 2019 DC Emancipation Day Parade.
Design descriptions and sketch must be received by the DC Emancipation Day Planning Committee by 5 pm on Friday, January 25, 2019.
DC Emancipation Day Parade will be held on Saturday, April 13 2019 at 2 pm.